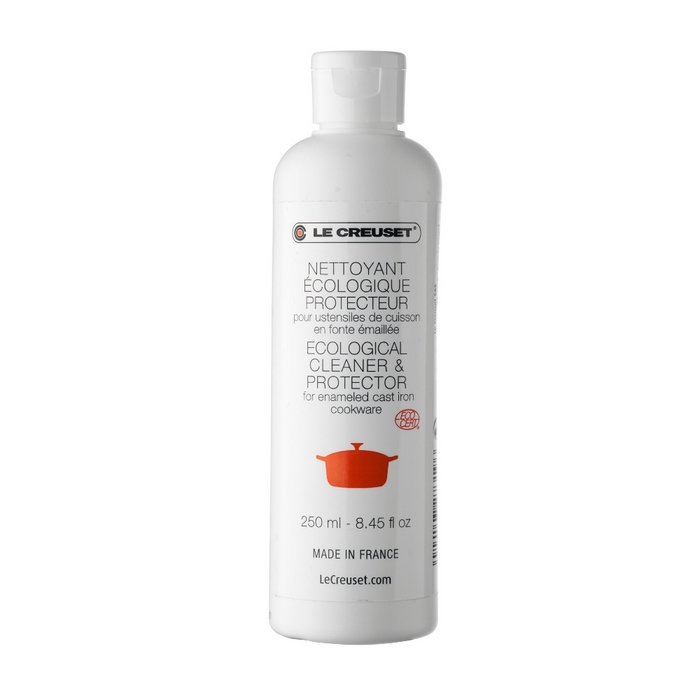 Le Creuset
Eco Cast Iron Cleaner & Protector
Its special formulation, which is certified organic and eco-friendly, gently cleans and protects your cookware while removing unsightly burnt-on deposits.

The Le Creuset Ecological Cleaner and Protector for enamelled cast iron cookware cleans and protects your cookware without damaging by gently removing cooking residues and stains whilst preserving the shine of the enamel.
Brand Information
Le Creuset is synonymous with quality, durability and functionality. Le Creuset is recognised the world over for market-leading, premium quality ranges of enamelled cast iron cookware, multi-ply stainless steel, toughened non-stick, and stoneware, along with its outstanding range of tableware and accessories.
Established in 1925, Le Creuset has been making world-class cookware for almost 100 years, innovation remains at the forefront of Le Creuset's success. Used by leading chefs and keen cooks around the globe, Le Creuset cookware offers outstanding performance time after time.
Use
Use with Interior Enamel
Regular use of the Ecological Cleaner and Protector will remove any burned-on food spills or discolouration that can occur after searing or sautéing ingredients or when cooking spices and highly coloured foods. Our cast iron cookware cleaner will do the job without damaging the enamel.

Use with Exterior Enamel
The cleaner polishes the exterior enamel keeping it bright, shiny and looking like new. It is recommended to use it to remove any burned-on food spills or marks caused by heating.

Regular use & cleaning

Please always remember to use only low to medium heat with your cast iron cookware to avoid overheating and let it cool after use before cleaning with hot, soapy water as per the care & use instructions.
Size

250ml
Please note: Lifestyle image is for reference only, for product colour please refer to the individual product image.