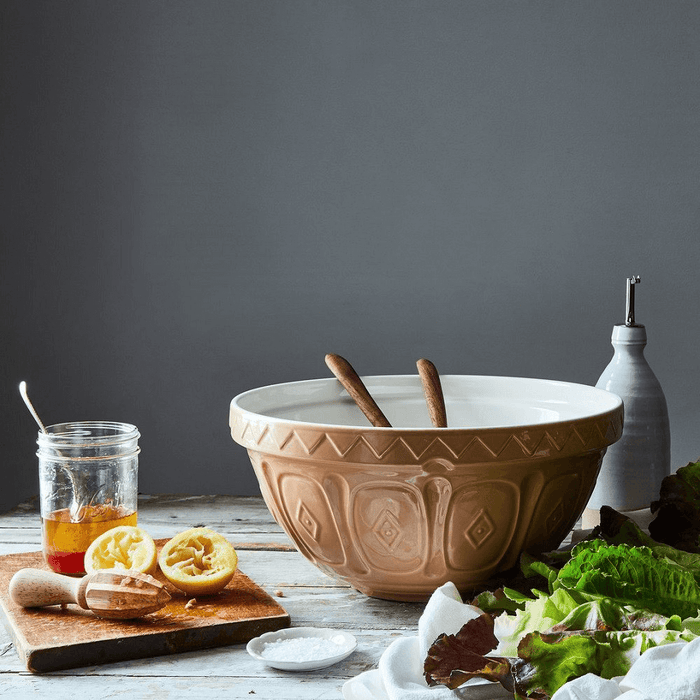 Mason Cash
Cane Mixing Bowl
4 Sizes
First created over one hundred years ago, the Cane design continues to be appropriate for even modern-day kitchens. Made from chip resistant earthenware with a designated weight that counters excess movement and a pattern that helps you to grip the bowl as you work. This is the classic mixing bowl that every kitchen ought to have.

Brand Information

Mason Cash has been the choice of home cooks and bakers for centuries. The origins of Mason Cash can be traced back to a pottery operating at Church Gresley in the heart of the English ceramic industry in 1800.
In 1901 they designed and manufactured the very first iconic Mason Cash mixing bowl. The design of the bowl has endured the test of time and has become a design classic. In fact, the design has barely altered since then, which is why the brand is still renowned for its innovative, classic kitchenware today.
Care & Use
Microwave safe
Dishwasher safe
Dimensions 
21cm Bowl: Diameter 21cm x Height 10cm
24cm Bowl: Diameter 24cm x Height 11cm
26cm Bowl: Diameter 26cm x Height 12cm
29cm Bowl: Diameter: 29 cm x Height 14 cm
Please note: Lifestyle image is for reference only, for product colour please refer to the individual product image.
Please note: This is a bulky item that will incur an additional delivery charge. The Bulky Item charge is only added once per order.