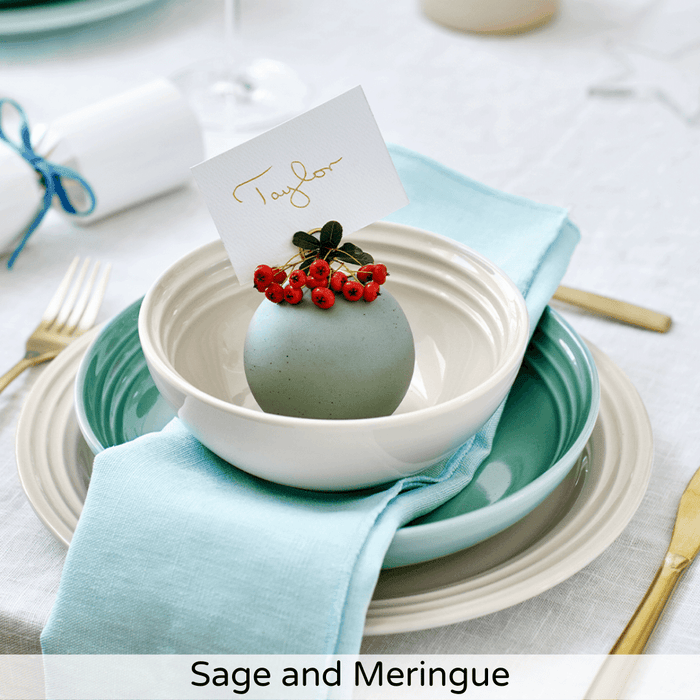 Le Creuset
Dinnerware:
Dinner Plate, Side Plate
and Bowls
These items are available for order only, let us know which you wish to purchase and we will order them direct from the supplier. You can mix and match colours to create your ideal dinner service!
Classic Le Creuset Stoneware was crafted for people who love to cook, eat and entertain.
Each item is available to order individually and are available in any of the following colours: Bamboo, Cerise, Marseille Blue, Meringue, Sage, Volcanic and White.
Stoneware Dinner Plate: features a recessed base to contain liquids and a raised rim featuring the signature three-ring branding. This plate is oven, microwave and dishwasher safe so is perfect for a busy home for both everyday use or entertaining friends and family.
Stoneware Side Plate: is ideal for use beneath a soup bowl as part of a complete place setting, or by itself for appetisers, bread, salad courses or a delicious dessert.
Cereal Bowl: Porridge, cereal or even soup. this bowl is ideal for serving up all sorts.
Pasta Bowl: this bowl is perfect for serving up delicious portions of pasta. But why stop there? It's also ideal for risottos, curries and more.
Brand Information
Le Creuset is synonymous with quality, durability and functionality. Le Creuset is recognised the world over for market-leading, premium quality ranges of enamelled cast iron cookware, multi-ply stainless steel, toughened non-stick, and stoneware, along with its outstanding range of tableware and accessories.
Established in 1925, Le Creuset has been making world-class cookware for almost 100 years, innovation remains at the forefront of Le Creuset's success. Used by leading chefs and keen cooks around the globe, Le Creuset cookware offers outstanding performance time after time.
Care & Use
Dishwasher safe
Dimensions
Dinner Plate: 27cm diameter
Side Plate: 22cm diameter
Pasta Bowl: 22cm diameter
Cereal Bowl: 16cm diameter
Please note: Lifestyle image is for reference only, for product colour please refer to the individual product image.