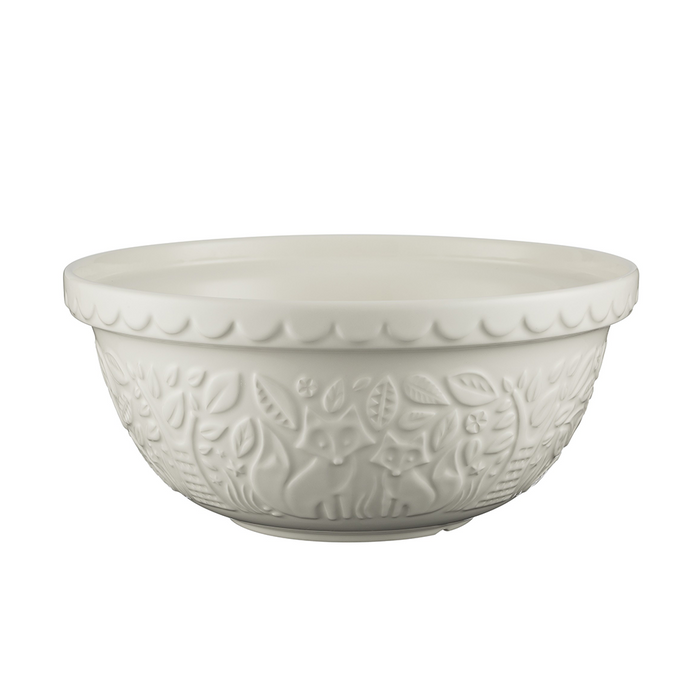 Mason Cash
Fox 'In the Forest' Mixing Bowl
Cream - 29cm
The Mason Cash Fox Cream Mixing Bowl (29cm) is perfect for bread, cake, cookie, pastry and pudding mixes. Part of the Mason Cash 'In the Forest' range, this bowl is embossed with fox forest scenes inspired by folk tales of the mid-19th Century.
Looking for a great biscuit recipe, our Peanut Butter Cacao Chip Oatmeal Cookies are just the ticket! Scroll down to find the recipe.
Brand Information

Mason Cash has been the choice of home cooks and bakers for centuries. The origins of Mason Cash can be traced back to a pottery operating at Church Gresley in the heart of the English ceramic industry in 1800.
In 1901 they designed and manufactured the very first iconic Mason Cash mixing bowl. The design of the bowl has endured the test of time and has become a design classic. In fact, the design has barely altered since then, which is why the brand is still renowned for its innovative, classic kitchenware today.
Care & Use
Microwave safe
Dishwasher safe
Dimensions 
Diameter: 29 cm x Height: 14 cm
Please note: Lifestyle image is for reference only, for product colour please refer to the individual product image.