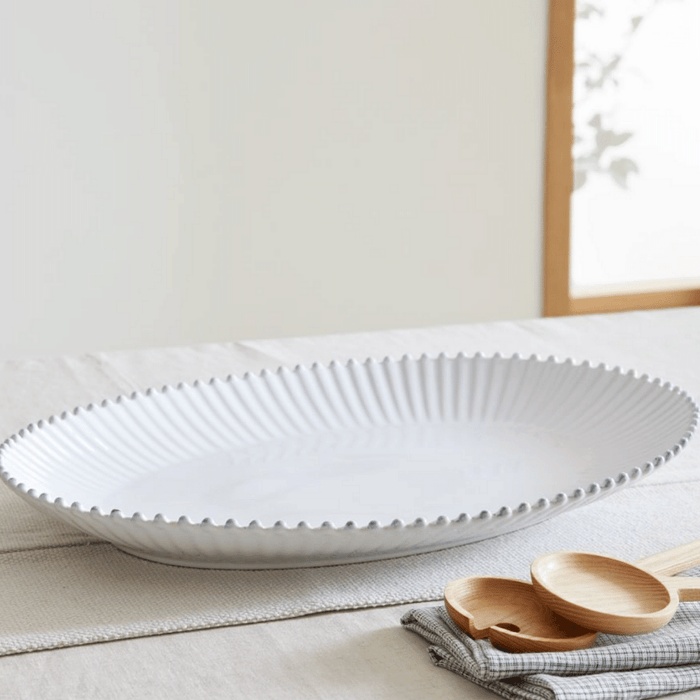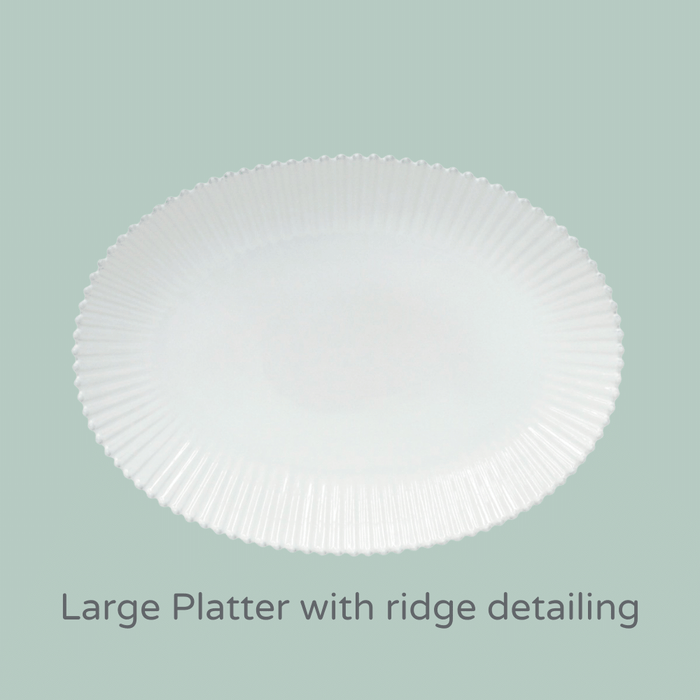 Costa Nova
Pearl Platter
White
The Pearl collection was inspired by the richness of 18th and 19th century European ceramics. The round shapes, beautifully embossed with a beaded edge were reinvented to create a new classic concept, bringing a touch of European traditional elegance to the table that will never go out of style.
Set your table in classic style with the wonderful platter. 
Brand Information
Costa Nova was born in a small Portuguese fishing village, near the Atlantic Ocean. The love of life, family, friends and good food has inspired Costa Nova to create fine stoneware collections that combine quality and design with the best in ceramic craftsmanship.
Costa Nova stoneware products are eco-friendly, reusable and recyclable. The use of local natural resources minimises their ecological footprint.
Single-fired production that saves energy and reduces emissions into the atmosphere. Products made with a high percentage of recycled materials (clays and glazes), decreasing the use of capital, energy, and natural resources.
Care & Use
The Costa Nova factories in Portugal, ancient skills of modelling and decorating are combined with modern technology in a special process that produces high-quality fine stoneware products capable of withstanding everyday use over many years. Manufactured in a single firing system heated up to 1180 ºC our stoneware is very strong and durable. Its glazed surface is fully vitrified which gives it high resistance to both thermal and mechanical shocks.
OVEN, FREEZER AND MICROWAVE SAFE
All pieces manufactured in fine stoneware have high thermal shock resistance, withstanding temperature variations between -20 ºC and 250 ºC. The maximum thermal variation advised is 180 ºC. All stoneware products can be safely used in the oven, microwave and freezer. As a precaution you should avoid placing pieces straight from the oven on a cold surface. Do not use it over a direct flame. Avoid the use of products with craquelée surfaces such Lisboa, Madeira, Cristal Grey, Pearl Aqua and Riviera in the oven and freezer.
DISHWASHER SAFE
All our pieces are easy to wash and clean and abrasive cleaners can be used without the risk of damaging the surface due to its high durability and low porosity. Most items can be washed daily in the dishwasher. To ensure the items last longer we advise you to make sure that no item rubs or bumps against another during the wash cycle, preventing damage. As a precaution we recommend you wash oversized items and more delicate pieces by hand.
Dimensions
51cm long x 37.1cm wide x 5.8cm high
Please note: Lifestyle image is for reference only, for product colour please refer to the individual product image.
Please note: This is a bulky item that will incur an additional delivery charge. The Bulky Item charge is only added once per order.