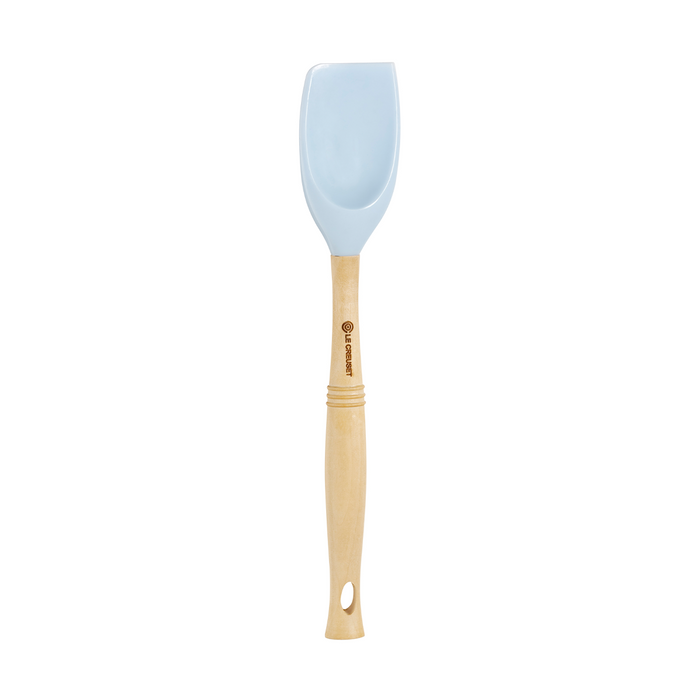 Le Creuset
Professional Spoon Spatula
The Le Creuset Silicone Professional Spoon Spatula is perfect for a range of kitchen tasks, including scooping portions, scraping baked on food and breaking up dense ingredients, such as minced meat.
Le Creuset Silicone Utensils are designed to be comfortable to use and kind to cookware. They will not scratch cooking or food preparation surfaces, making them ideal for use with non-stick cookware. The heads are made from premium quality silicone and are fully removable for easy cleaning. The Silicone Professional Range feature helpful additional design features, such as grip rings on the handle for added control and a rim swipe to remove food from jars and bottles. Available in a range of shapes, styles and colours to suit every cook and every kitchen.
Brand Information
Le Creuset is synonymous with quality, durability and functionality. Le Creuset is recognised the world over for market-leading, premium quality ranges of enamelled cast iron cookware, multi-ply stainless steel, toughened non-stick, and stoneware, along with its outstanding range of tableware and accessories.
Established in 1925, Le Creuset has been making world-class cookware for almost 100 years, innovation remains at the forefront of Le Creuset's success. Used by leading chefs and keen cooks around the globe, Le Creuset cookware offers outstanding performance time after time.
Care & Use
BEFORE FIRST USE
Remove all packaging and labels. Wash the utensil or accessory in hot, soapy water. Rinse and dry thoroughly.
HEAT RECOMMENDATIONS
Le Creuset silicone utensils and accessories are heat-resistant to 482°F/ 250°C, so they are ideal for stovetop cooking. Utensils should not be left in pans while cooking, and handles should not overhang the sides. Heat from the stove can damage the wooden handle.
CLEANING AND CARE
Silicone is dishwasher-safe, so accessories made entirely from silicone can be placed directly in the dishwasher.
To clean wooden-handled utensils simply remove the silicone blade by pulling it from the handle and place in the dishwasher. Wash the wooden handles by hand and dry well before replacing the clean utensil blade.
Mineral oil can be used on the wooden handle after drying to preserve its good looks.
Dimensions
32.4cm long x 1.3cm deep x 5.7cm wide
Please note: Lifestyle image is for reference only, for product colour please refer to the individual product image.