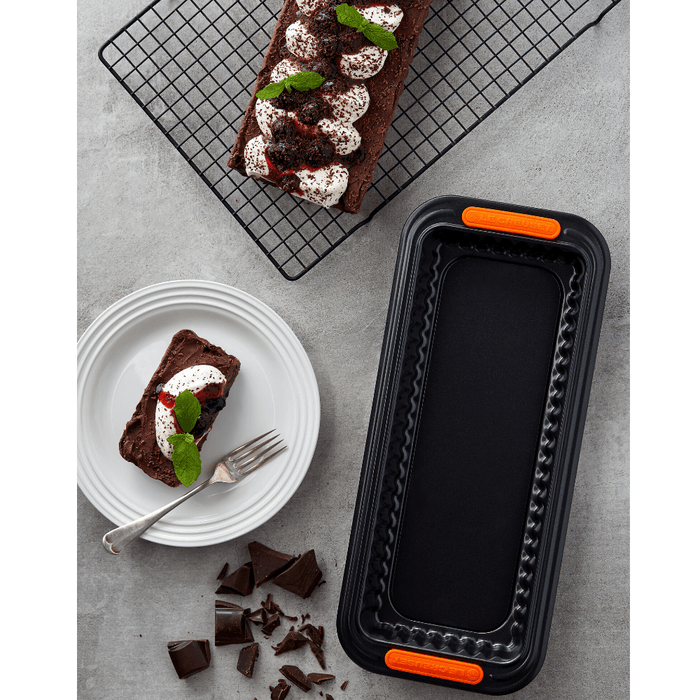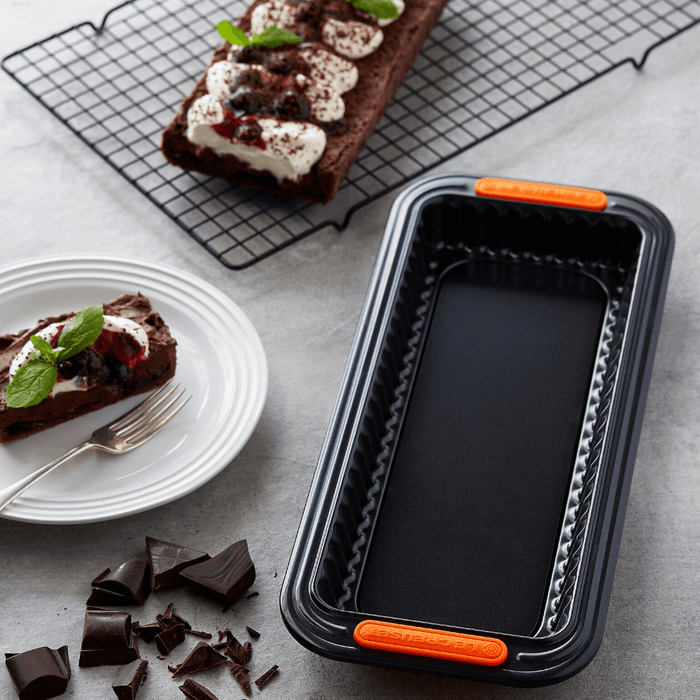 Le Creuset
Rectangular Fluted Tart Tin
Removable Base
33cm
Ideal for sweet and savoury recipes, the excellent heat-spread quality of the Rectangular Fluted Tart Tin means your pastry will cook to perfection. The removable base allows you to slip off the outer ring for a beautiful presentation.
The wide rim on the outside of the tin, featuring heat-resistant silicone inserts for added grip, makes lifting a full tin easier and safer, especially when taking to and from a hot oven. 
Brand Information
Le Creuset is synonymous with quality, durability and functionality. Le Creuset is recognised the world over for market-leading, premium quality ranges of enamelled cast iron cookware, multi-ply stainless steel, toughened non-stick, and stoneware, along with its outstanding range of tableware and accessories.
Established in 1925, Le Creuset has been making world-class cookware for almost 100 years, innovation remains at the forefront of Le Creuset's success. Used by leading chefs and keen cooks around the globe, Le Creuset cookware offers outstanding performance time after time.
Care & Use
Before first use remove packaging, hand wash in warm soapy water and dry thoroughly.
Grease the inside of the tin sparingly before each use for best results.
Oven safe to 240°C/Gas Mark 9.
Metal kitchen utensils may be used, with care.
Knives, or utensils with sharp edges, should not be used.
Cool the tin for a few minutes before cleaning. Do not plunge into, or fill with, cold water when hot.
Hand wash after each use and dry thoroughly before storing.
If washing up water becomes trapped inside the rim, this may cause slight rusting in this area. This is a natural trait of carbon steel, not a fault, and will not affect the performance of the product.
If desired, leave to dry in a warm oven for a few minutes to remove moisture from inside the rim.
Do not use metal or harsh washing up pads/brushes or abrasive cleaning agents on any surface.
Always use protective oven gloves when handling a hot tin during and after cooking.
Not suitable for microwave ovens, dishwasher, grill or use on direct heat.
Dimensions

External Dimensions: 39cm x 17cm x 4cm
Internal dimensions: 33cm x 13cm x 3cm

Please note: Lifestyle image is for reference only, for product colour please refer to the individual product image.