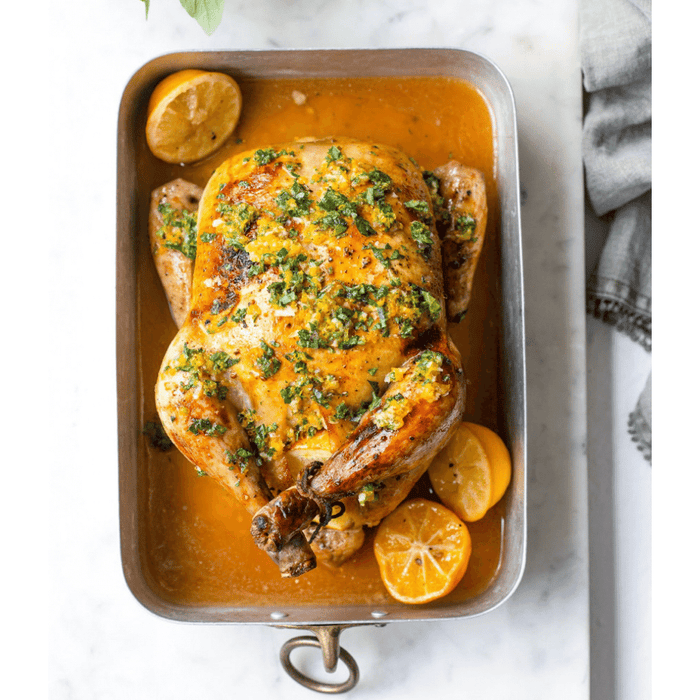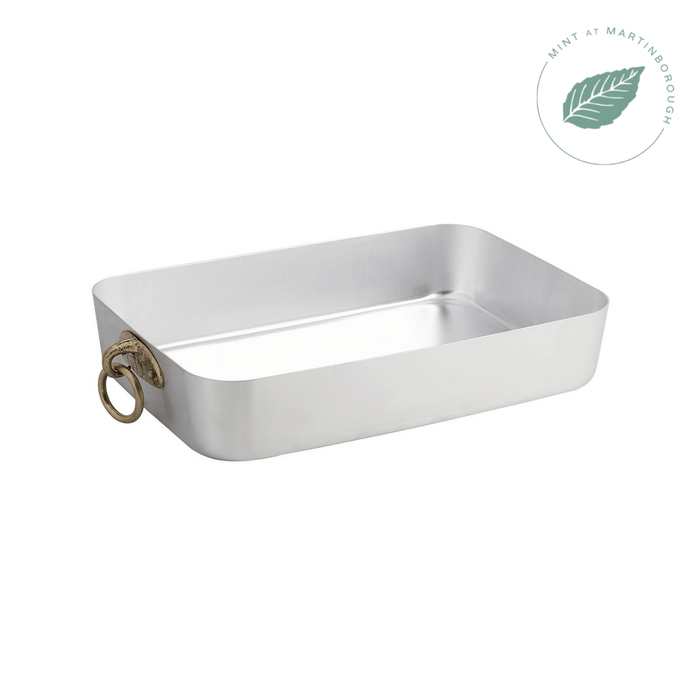 Ottinetti
Roasting Pans
Four Sizes Available
Ottinetti Roasting pans are both functional and stylish, with a brass hook on one end, for hanging. Aluminium is one of the preferred materials for the rapid transfer of heat, giving the cook greater control and consistent browning. Used for years by food stylists and Dish magazine to enhance food, Ottinetti is stunning from oven to table.
Ottinetti Cookware - made in Italy since 1920, is unique and stylish combining the optimal cooking properties of food grade metal with the beauty of brass. It sits alone in the market as a traditional, handcrafted product designed to last.
There is no plastic or ceramic surface that might wear off or become damaged. Ottinetti is lighter in weight than other traditional materials such as cast iron. This lovely roasting pan, made in Italy, has a brass ring on one end.

DEBUNKING THE ALZHEIMERS MYTH: From the Alzheimers Association of America: "During the 1960s and 1970s, aluminium emerged as a possible suspect in Alzheimer's. This suspicion led to concern about exposure to aluminium through everyday sources such as pots and pans, beverage cans, antacids and antiperspirants. Since then, studies have failed to confirm any role for aluminium in causing Alzheimer's."
Brand Information

For 100 years Ottinetti have been driven by tradition and innovation, passion and creative spirit to create high quality kitchenware. Ottinetti products are still expertly crafted in Italy by descendants of the original founder Italo Ottinetti.
Care & Use
1. Some dulling or darkening of the interior will occur with use. This is normal oxidisation.
2. Please wash by hand in hot water using a detergent of choice.
3. Where-as it is perfectly safe to cook acidic foods in metal pots and pans please do not store acidic foods in them. The acid may cause pitting of the metal and result in the food tasting slightly metallic. NB: It may hurt the pot but it won't hurt you.
Dimensions
Four sizes available:
Small: 26cm long x 18cm wide x 8cm deep
Medium: 30cm long x 20cm wide x 6cm deep
Large: 35cm long x 25cm wide x 6cm deep
Extra Large: 38cm long x 32cm wide x 7cm deep
Please note: Lifestyle image is for reference only, for product colour please refer to the individual product image.