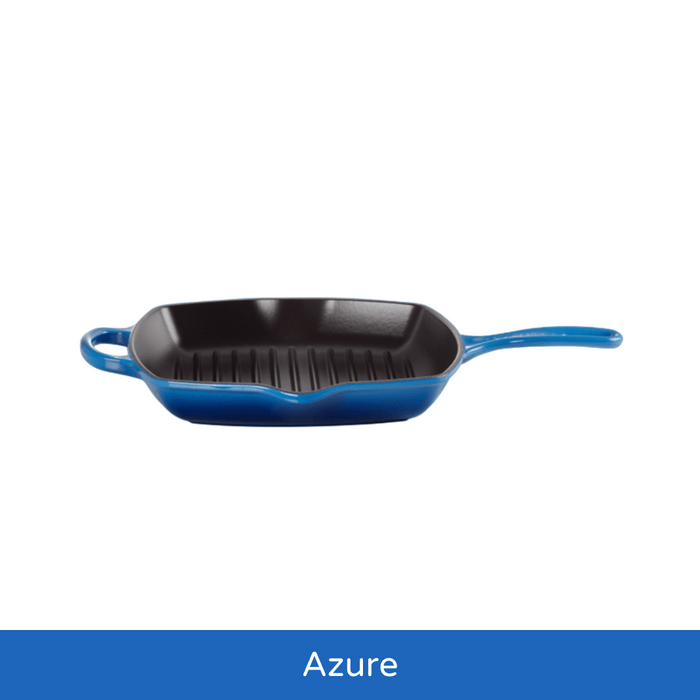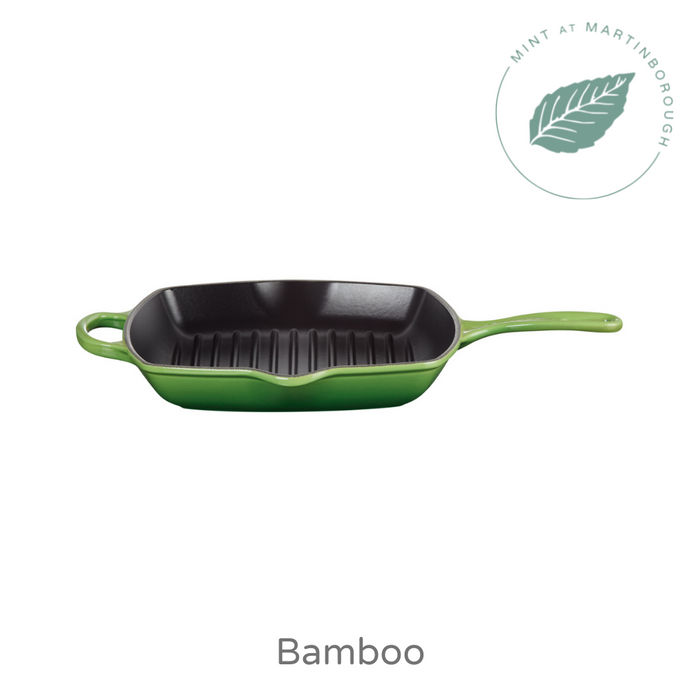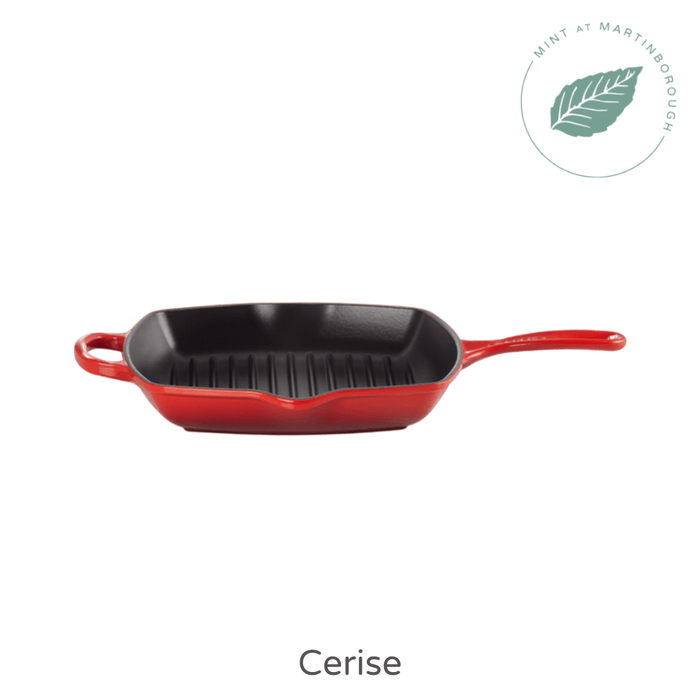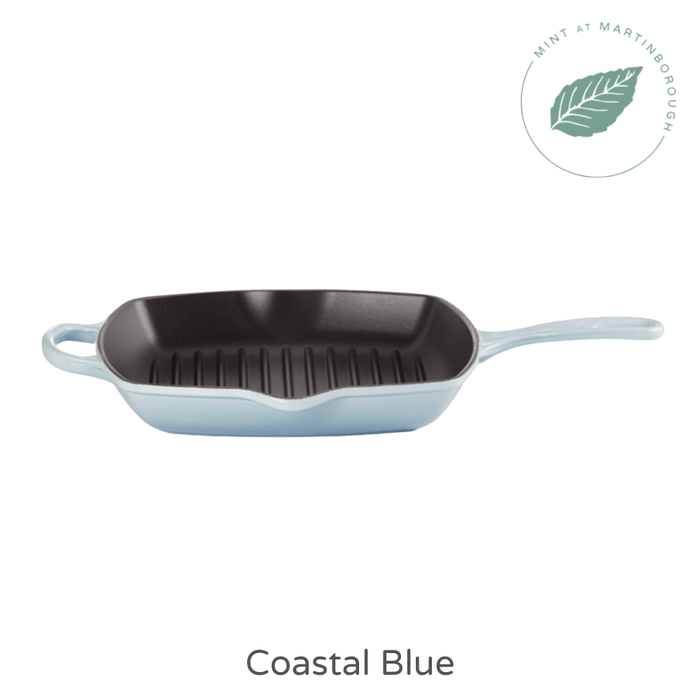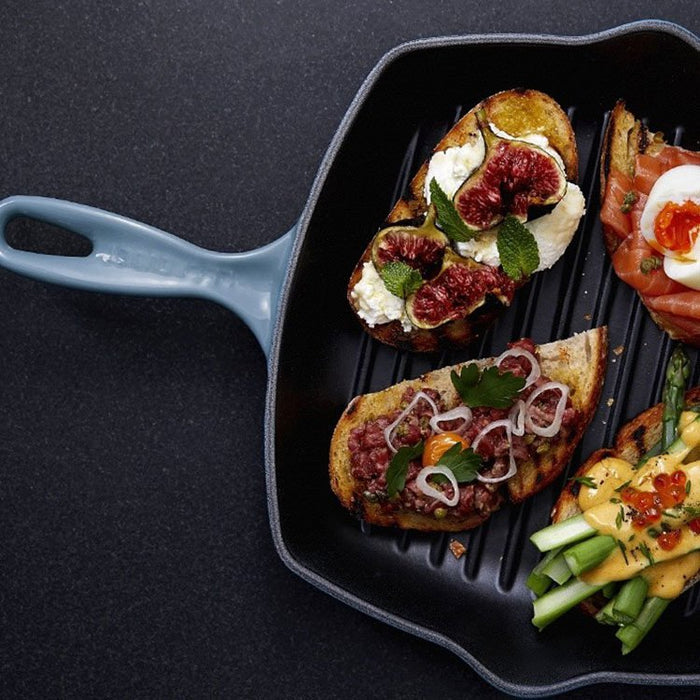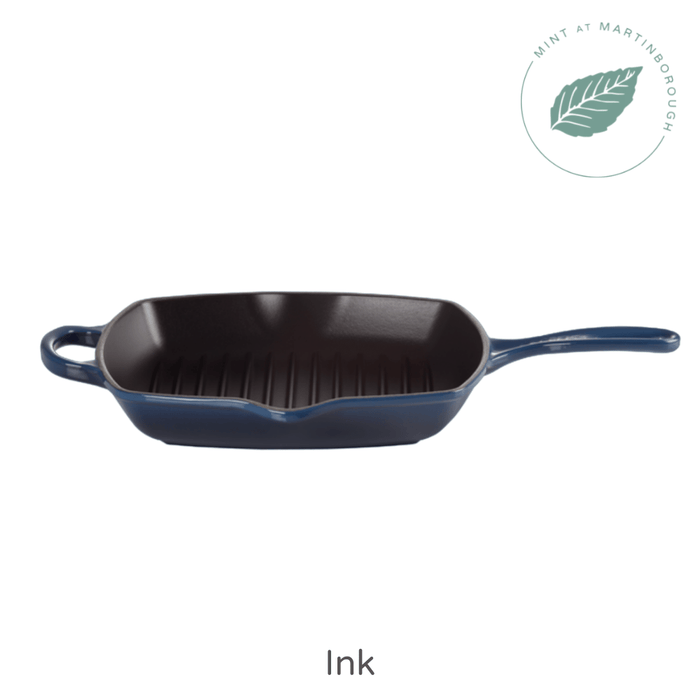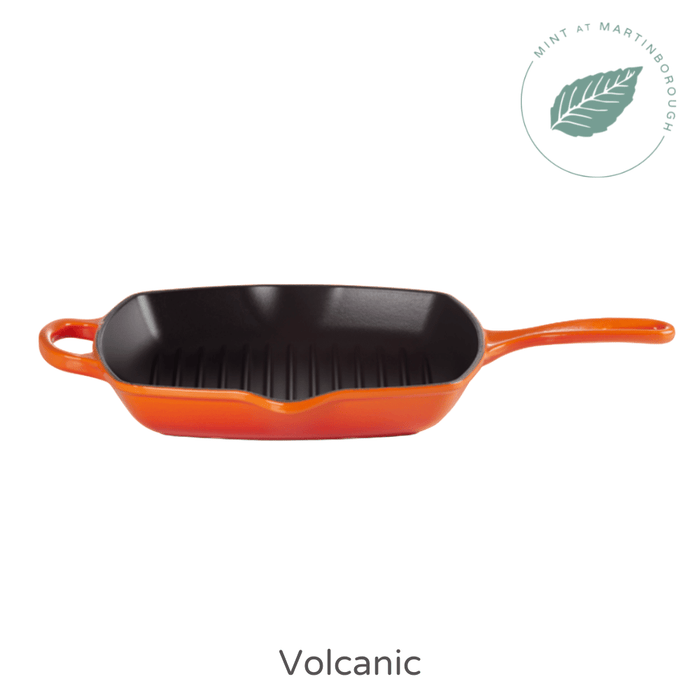 Le Creuset
Signature Square Grillit Pan 26cm
The Signature Square Skillet Grillit® or Griddle Pan gives all the delicious flavour of an outdoor grill, with all the convenience of indoor cooking. High ridges allow excess fat and grease to drain, and spouts on two sides allow for drip-free pours. Over time, the satin black interior develops a natural patina that is ideal for searing and frying. See the video below to see this versatile pan in action.
The Le Creuset Cast Iron Square Grillit features stylish, integral handles for easy and safe lifting. The satin black enamelled interior is robust and durable to withstand higher surface temperatures, whilst the grooves re-create professional seared lines and flavour.
Our satin black enamel interior has excellent easy food release properties, which are enhanced once a natural surface patina develops. Whilst it is not a non-stick surface, once the patina covers the cooking surface the release of foods improves such that little, or no, fats or oils are required for healthier cooking.
Square Grillits are ideal for:
Searing quickly, with a minimum of fat, a variety of meat and fish
Grilling brochettes, vegetables and fruit
Finishing cooking thicker pieces of meat in the oven, such as chicken or duck
Roasting a piece of lamb or beef in the oven
Deglazing the caramelised residues of grilled meats with a glass of wine to make a delicious sauce
The Le Creuset Cast Iron Square Grillit is protected by a Lifetime Guarantee for total peace of mind.
Brand Information
Le Creuset is synonymous with quality, durability and functionality. Le Creuset is recognised the world over for market-leading, premium quality ranges of enamelled cast iron cookware, multi-ply stainless steel, toughened non-stick, and stoneware, along with its outstanding range of tableware and accessories.
Established in 1925, Le Creuset has been making world-class cookware for almost 100 years, innovation remains at the forefront of Le Creuset's success. Used by leading chefs and keen cooks around the globe, Le Creuset cookware offers outstanding performance time after time.
Care & Use
Can be used on all types of hobs ELECTRIC HOB, GAS HOB, CERAMIC HOB, GRILL, INDUCTION HOB, OVEN SAFE
Dishwasher safe
Dimensions

Capacity: 1.8 litres
26cm square
Please note: Lifestyle image is for reference only, for product colour please refer to the individual product image.